Also, tips and tricks on what is the best and safest way to transport your dog by car or motorhome can be found here.
Wanted: Dog camping with welfare guarantee
In what areas are dogs allowed? If Rocky is not allowed to walk through nature, he cannot enter a restaurant or can only see the sea from afar, and it is likely that none of you will enjoy this vacation.
How is the terrain at the campsite? The gravel floor found in many places can be advantageous for campers, but many dogs perceive it as unpleasant. Friendly land for your friend's legs is sand or grass.
Are dogs allowed to go swimming? Especially when camping in southern countries, bathing with your dog can become an unforgettable moment.
Additional costs? Some campsites charge a flat rate, others charge per day, and others admit dogs for free.
Camping With Dogs: You Must Know (And Follow) These Rules
Clean your dog's waste. The reason why this rule is indispensable for peace in camping is clear.
Do not leave your dog unattended for a long time. Your dog may have difficulty getting used to the limited space offered by the caravan. Don't forget the weather conditions: Caravans, often poorly insulated, can quickly become a dangerous heat trap.
Make sure you have a fixed program.
Conclusion: Pack and escape from the city!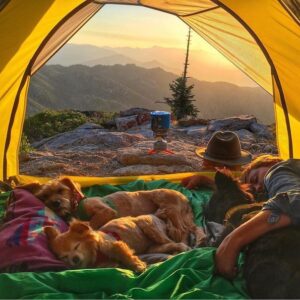 All the clichés of a camping holiday for dogs are no accident. If you choose the campsite carefully in advance and follow the most important rules, nothing will stand in your way to an unforgettable vacation experience.
Contributed by: happierCamping.com foremost experts in Camping and outdoor adventure