Year after year, the carp market is growing and updating in technologies and comforts, following the needs and demands of its most demanding customers. From the most technical to the most economical, backpacking tents are a favorite of users because of their size, weight, and usefulness.
The best in all areas: Nemo Dagger 2
If you like to walk light, but without neglecting the useful characteristics of a tent, you will love the Nemo Dagger 2. The material from which it is made is light but resistant, making its useful life longer (area in which the majority of light tents fail). The outer awning is Nylon Ripstop 15D and is quiet even in adverse wind conditions. Its interior is not the widest of all, with a measure of 50 inches. But long it has more space, it reaches 90 inches, making it spacious and comfortable. It has two large doors, with fine anti-insect meshes and lower, windproof walls. The spacious lobby allows you to cook and store your equipment with peace of mind. While the winner of the Big Agnes Editor's Choice weighs 300 grams less, The Dagger costs USD $ 50 less and has more space, which represents a considerable advantage. We love its design, qualities, and the great utility of this tent, so we believe it is one of the best options the market has. There is also a version for three people, in case you are looking to travel with an extra guest!
The second best: Big Agnes Copper Spur HV UL2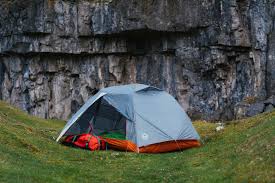 Highly above average, the space-weight ratio of this tent is incredible. It has what many backpackers want: it is comfortable, weighs very little, takes up little space, and its quality is almost unsurpassed. It is highly resistant to strong wind conditions. And although it is not as durable as the Hilleberg Anjan 2 GT, it makes it a tough competition. It has two doors with large hallways and weighs 1.6 kilos, the third lightest in this review.
The best price: Sierra Designs Clip Flashlight 2
Are you looking for something comfortable to travel by vehicle but also light to
spend time in the mountains? This model has a number of features that meet both requirements. We loved how spacious it is, with high walls that allow a person to sit and move comfortably. The space for indoor storage is adequate and has the advantage that you can disassemble the "wings" of the winds for excellent ventilation. It weighs 1.4 kilos and can be packed small enough. You travel alone? You can also see the version of 1 person, the Light Year 1.
Best price-comfort ratio: REI Half Dome 2 Plus
This is the most comfortable and best habitable tent of our review. It has a spacious interior and construction designed for tall people or traveling with pets or extra luggage. It has the best price comfort ratio, even surpassing other luxury modes such as the Nemo Galaxi 2. This tent is exceptionally comfortable and with an ideal weight-to-space ratio, good ventilation, and interior storage. It weighs 2.6 kg, is perfect for weekend trips, or to divide the weight in backpacking trips. If you are looking for a tent for trips both by car and on foot, and you want that extra space for your large friend or your pet, this is your option.